Pokemon has always been about a blend of cute and badass with its monster designs. And Pokemon's ninth generation finally arrived with Pokemon Scarlet & Violet, the trend continues. This game sends its players on an epic journey to freely explore the Paldea region. In their new Pokedex, there are plenty of interesting and weird entries, but, some just melt your heart in seconds. Below are some of the Cutest Pokemons in Pokemon Scarlet and Violet.
Before moving on to the list, over 100 new Pokémon have been added to the game, and they all come in different shapes, and sizes. Yet, the most important theme arisen with this new generation is cute and adorable Pokemons, which btw, are many. Some of them might look problematic, while others have gamers gasping at their lovable designs.
Alright gamers, enough ranting. Let's bring the list one. Here's a quick little overview of the Cutest Pokemon in Pokemon Scarlet and Violet:
| | | |
| --- | --- | --- |
| Pokemon | Type | Forms |
| Gimmighoul | Ghost | Chest form and Roaming Form |
| Smoliv | Grass/Normal | Dolliv then Arboliva |
| Quaxly | Water | Quaxwell then Quaquaval |
| Greavard | Ghost | Houndstone |
| Maschiff | Dark | Mabosstiff |
| Fuecoco | Fire | Crocalor then Skeledirge |
| Maushold | Normal | Tandemaus |
| Fidough | Fairy | Dachsbun |
| Sprigatito | Grass | Floragato then Meowscarada |
| Pawmi | Electric/Fighting | Pawmo then Pawmot |
10. Gimmighoul
Type: Ghost
Forms: Chest form and Roaming Form
Some might point out that this tiny Pokemon may be a replicate of the Reddit avatar, but this tiny Ghost-type Pokemon has its own charm. Unlike other pokemon in Scarlet and Violet, Gimmighoul has two forms that players can spot when hunting around Paldea.
Gimmighoul may give you the false countenance of being shy, for it shies away within a treasured chest. The sturdy and durable treasure chests give Gimmighouls a good share of defensive maneuvers.
9. Smoliv
Type: Grass/Normal
Forms: Dolliv then Arboliva
As the name and picture suggest, Smoliv's design was created to resemble a small olive, the fruit that some players enjoy and some do not. However, Smoliv is adorable to such an extent that certainly no player would take steps to cook it.
Smoliv lives in the olive fields of Paldea in Pokemon Scarlet and Violet. One of his known abilities is Early Bird. It allows him to wake up from Sleep in half as many turns as usual.
8. Quaxly
Type: Water
Forms: Quaxwell then Quaquaval
Quaxly might be the answer for many fans who demanded a decent duck pokemon, one that is better than Psyduck and Ducklett. He may look like a regular duck Pokemon, but its cute little blue webbed feet and hilarious haircut have enchanted many players into picking it.
Quaxly is an amazing design, with a bit of a smug disposition and an adorable look. It's like how a child looks when they attempt to be serious and grown-up.
7. Greavard
Type: Ghost
Forms: Houndstone
In our list of Cutest Pokemon in Pokemon Scarlet and Violet, I introduce to you, Greavard. The best loyal and playful ghost dog. Another notably cute addition to the game, this ghost-type dog adores humans and acts like any loyal canine would. While its jagged mouth may be strong enough to crush bones, its ominous sucking of the life force of anyone can be quite horrifying.
However, this shouldn't diminish a lot from its fun-loving personality. It's surely one of Gen IX's most cute designs, and it has a caring character to go with it.
6. Maschiff
Type: Dark
Forms: Mabosstiff
Pokemon Scarlet & Violet have introduced several dog-like Pokemons to the roster. But before Greavard, Maschiff must be the cutest among them. This small dark type tries to be threatening yet turns out to be very loveable.
According to Pokemon Scarlet's Pokedex, Maschiff attempts to make adversaries take it in seriously way by scowling. But even sad children happen to burst into laughter when they see their faces. Well, he is quite a dog I'd love to have.
5. Fuecoco
Type: Fire
Forms: Crocalor then Skeledirge
Returning to one of the starter Pokemons, Fuecoco is a crocodile-like that fans can't help but fall in love with. As this Fire-type starting option, this red Pokemon is seen right off the bat in the game accidentally burning an orange when it wheezes. These adorable short-legs is really a  nice option to choose as a starter.
By the way, when Fuecoco meets with food, these short legs will rush toward the smell of treats.
4. Maushold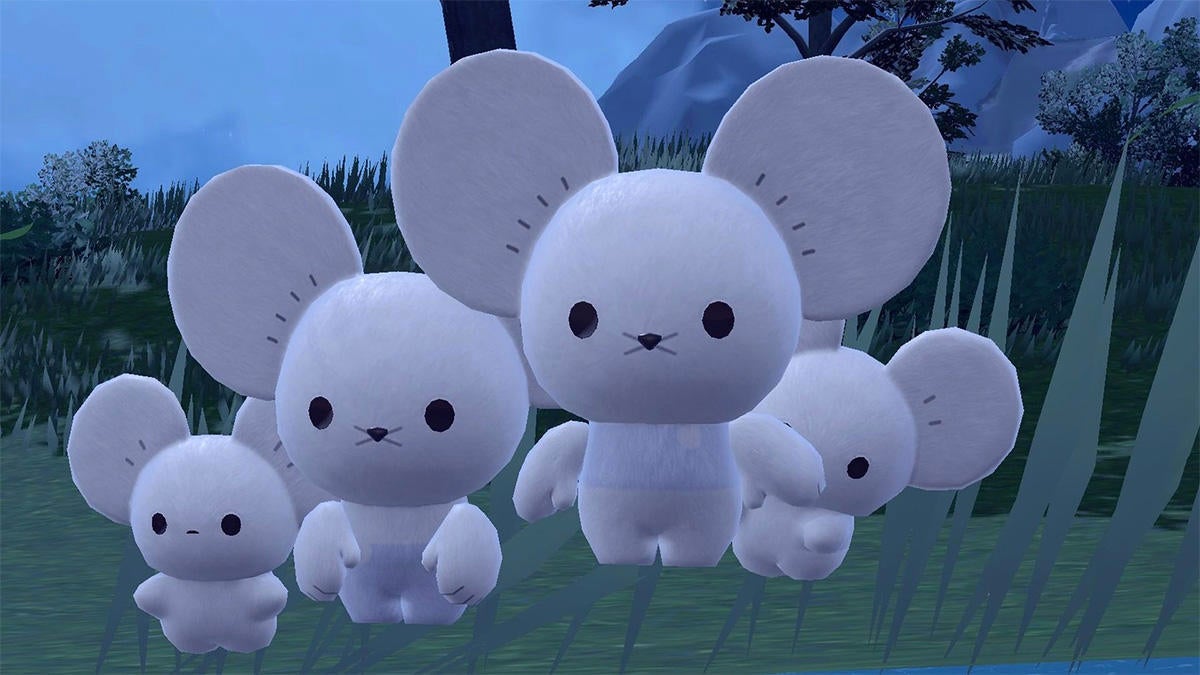 Type: Normal
Forms: Tandemaus
No cap, Masuhold is an absolutely wholesome concept for a Pokemon. Masuhold's are couples that never separate and look adorable. Their species is also called the Couple Pokemon. Unless get weirded out by multiple entities considering one, Maushold is the cutest thing you can experience.
According to Pokedex entries, this family of mice builds nests with a few spaces for various purposes, cooperates, and collaborates.
3. Fidough
Type: Fairy
Forms: Dachsbun
Fidough is another heart-melting dog species that has a tiny body resembling small bread puns. His entire body sometimes looks like a baked treat ready to go in the oven. This fairy type continues its adorable streak when it evolves into another baked version called Dachsbun.
Fidough was another new Pokémon to be teased early with the Scarlet & Violet trailers, standing out enough to be noticed all the while.
2. Sprigatito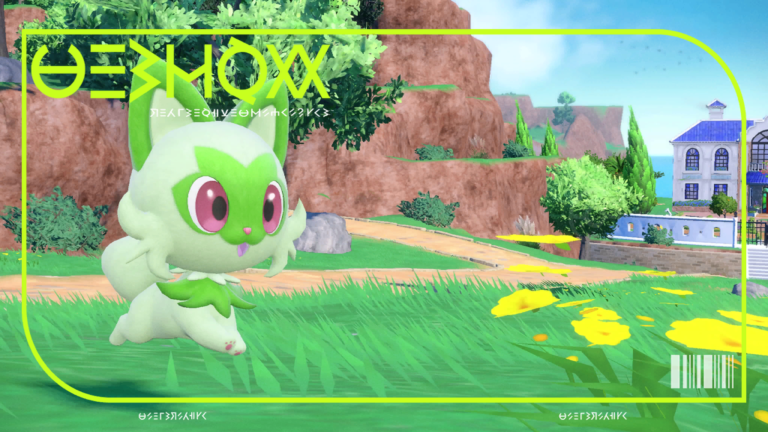 Type: Grass
Forms: Floragato then Meowscarada
Sprigatito is considered to be the second-best starter to be selected behind Fuecoco, and few can argue that the Grass Cat Pokémon isn't adorable. I'm sure cat parents didn't even have a second thought before getting this cutie as a starter.
If its big feline gaze doesn't convince players, then the lovely fragrance standing is sure to get a person's attention.
1. Pawmi
Type: Electric/Fighting
Forms: Pawmo then Pawmot
Out of all the Pokemon that were introduced in the ninth generation, in our list, Pawmi is the cutest of all. Players were not disappointed by its appearance, as this Electric-type Pokemon keeps on gaining favor with fans for its lovable design. You can also say that Pawmi is the classic Pikachu clone that every game needs
Pawmi is a three-stage evolution line. And one of the cutest Pokemon of all time, without a doubt. With its shaky stance, irately focusing on its own cheeks a fight.
Conclusion
These were the cutest pokemon in Pokemon Scarlet and Violet. This game has a nice balance of wild and derpy Pokemon, however, a few heartwarming entries likewise track down their way into this new collection of 'mons.
Which one do you think is the Cutest pokemon? Comment down below. Make sure to bookmark Spiel Times Pokemon Guides to get hints, and tips that you'll need to make your Paldea adventure a good one!
---
Also Read: Pokemon: Scarlet and Violet – Can you catch a Titan Pokemon?
Make sure you share, subscribe to our push notifications, and never miss an update from the world of video games, cinema, and sports. You can also follow us on Twitter @spieltimes for the latest PS5 restock and drop. Stay Safe and Happy Gaming!