Hell's Paradise Episode 1 premiered on April 1, 2023 and fans were overjoyed as the episode lived up to viewers' expectations, both in terms of the story and Studio MAPPA's animation. The official website for the series has announced the total number of episodes to air this season, and fans are already looking forward to the next episode of the anime.
Episode 2 will be released on April 8, 2023 at 11pm JST, and will be available for streaming on Crunchyroll. This article discusses when and where fans can watch the new 2023 anime, and what Hell's Paradise Episode 2 has in store for viewers.
Disclaimer: This article contains spoilers for the Hell's Paradise anime.
---
Everything fans need to know about the upcoming

Hell's Paradise

episode 2
Global release date and time, where to watch
Un primer episodio impresionante hablando de la animación y los efectos.

Aunque, ya aviso que el final del manga y la historia me tiró para atrás.#jigokuraku_anime #jigokuraku #地獄楽 #HellsParadise pic.twitter.com/Rys1XAnBMX

— 🐺🏅LaurelFarrow⚡🍊⚡ (@laurel_farrow) April 2, 2023
The Hell's Paradise anime episodes will be released every Saturday, with Episode 2 releasing on April 8, 2023 at 11pm JST. Hell's Paradise episode 2 will be aired in Japan on TV Tokyo, and Hikari TV, and will be available for streaming on Amazon Prime, and Netflix . The episode will be available for streaming globally on Crunchyroll and Netflix. The date and time of release will vary for international viewers based on their respective time zones as given below:
Pacific Time: 7am PT (April 8, 2023)

Eastern Time: 10am ET (April 8, 2023)

British Summer Time: 3pm BST (April 8, 2023)

Central European Summer Time: 4pm CEST (April 8, 2023)

Indian Standard Time: 7.30pm IST (April 8, 2023)

Philippine Time: 10pm PHT (April 8, 2023)

Japanese Standard Time: 11pm JST (April 8, 2023)

Australian Eastern Daylight Time: 1am AEDT (April 8, 2023)
---
What to expect in

Hell's Paradise

Episode 2 
With Episode 1 setting the scene, the next instalment will likely introduce the supporting cast of the series, many of whom appeared in the official trailer for the anime. Hell's Paradise Episode 2 will likely show Gabimaru and Sagiri traveling to Edo, where the other death-row convicts chosen to be sent to the mysterious Shinsenkyo have gathered.
We might also get more information regarding the expedition and the "survivors" from previous search parties who had turned into flowers. The official trailer for the anime shows several swordsmen clad in the Yamada Asaemon uniforms, who might also make an appearance.
While Episode 1 explored Gabimaru's emotional turmoil and depicted his superhuman skills of him, Sagiri simply remained as a spectator and a skilled executioner. Hell's Paradise Episode 2 might shed more light on her background, since it was already established that it was rare for a woman to become a Yamada Asaemon.
---
Hell's Paradise
Episode 1 recap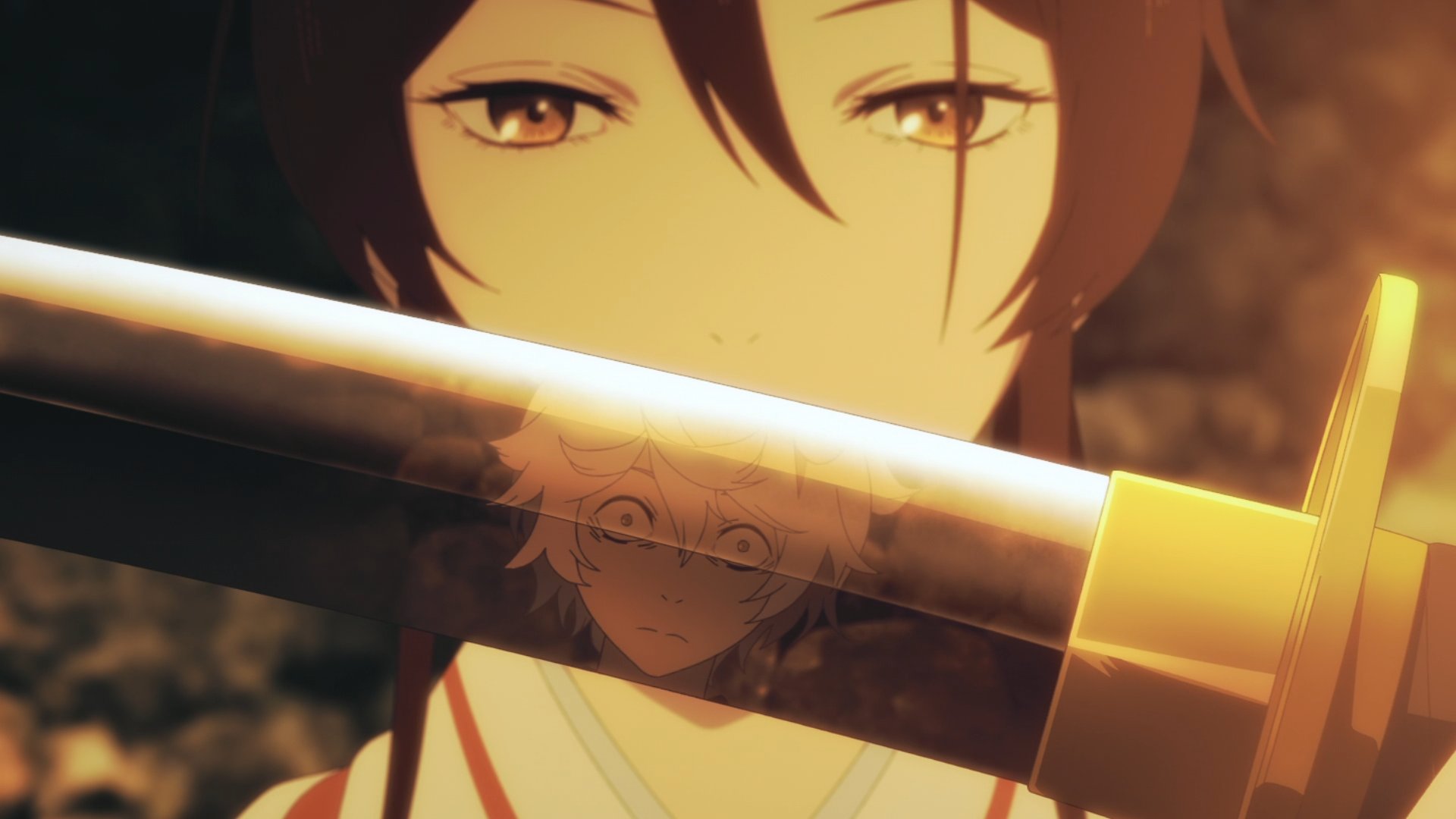 Hell's Paradise Episode 1 began with the district magistrate's office trying and failing to execute "Gabimaru the Hollow," while the convict himself expressed his frustration upon instinctively resisting the officers' attempts to kill him. The officials tried to behead him, set him on fire, and rip him apart by typing his legs to bulls, but none of the techniques had any effect on the Iwagakure shinobi.
As Sagiri interviewed him, Gabimaru described his life in the village and his eventual capture upon wishing to leave. His testimony revealed that the village chief was the one who dictated and wielded complete control over the lives of the men, women, and children living there.
Jigokuraku: Hell's Paradise Ep.1

Gabimaru got betrayed by the chief which led to his capture

This is so sad because Gabimaru was actually thinking on living a happy normal life together with Yui while the chief and his former comrades was betraying him#jigokuraku_anime pic.twitter.com/5I0Aalm0gH

— EAGLE |cr: Tokyo Ghoul (re-read) (@eaglelionanmin) April 2, 2023
Sagiri eventually disclosed her identity as a Yamada Asaemon and offered to kill Gabimaru, forcing the convict to wonder if he really wanted to die. The ninja assassin remembered his beloved wife, who was his sole reason from him to keep on living. Sagiri correctly deduced that the convict wanted to give up a life of killing in order to fulfill his wife's desire to live as normal people.
The Yamada Asaemon then announced that she was looking for potential candidates to undertake a journey to Shinsenkyo in search of the Elixir of Life in exchange for the Shogun's pardon and his protection from both the state and Iwagakure's shinobi.
With his will to live reignited, Gabimaru used ninjutsu to single-handedly take down the guards attacking them. Hell's Paradise Episode 1 ended with Sagiri explaining to the convict that their next stop was Edo, where the other chosen criminals would gather before embarking on their journey.
---
Hell's Paradise: Jigokuraku began receiving a lot of attention ever since the anime adaptation for the series was announced during Shueisha's Jump Festa 2021 convention. With Studio MAPPA handling the animation, fans have high hopes for Season 1 of the dark fantasy/horror anime.
---
You can also share any questions you have about Nahida's ascension in Genshin Impact. Until then, stay with us here at Spiel Times for more content.
Make sure you share, subscribe to our push notifications, and never miss an update from the world of video games, cinema, and sports. You can also follow us on Twitter @spieltimes for the latest update. 
Don't forget to check out more of our original content from the list below:
Gotoubun no Hanayome anime|Scott Pilgrim anime| Solo Leveling: Ragnarok| One Piece anime| Bocchi the Rock! spin-off manga| Tokyo Revengers Season 3| Blue Lock manga| Vinland Saga Season 2 Part 2| Spy x Family Season 2| Mushoku Tensei Season 2| Re:Zero manga