REAL Manga Review – The manga that leads to a journey towards true path and self-discovery. With over 16 million copies sold in circulation, from the creator of Slam Dunk and Vagabond, Inoue Takehiko.
REAL won an Excellence Prize for manga at the 5th Japan Media Arts Festival in 2001. The series has been published in English by VIZ Media under the VIZ Signature imprint since July 15, 2008. Here's a little review of REAL manga and now, let's head on to what's great about this manga.
Some manga stories inspire us to go beyond. Real, by the great Takehiko Inoue, is definitely one of those stories. pic.twitter.com/Tn3fLR9Ri0

— VIZ (@VIZMedia) January 13, 2022
Basic information and Synopsis of the manga
Chapters: 90 (14 volumes)
Status: Finished
Published: 1999 – 2020
Genres: Drama, Sports, Psychological, Seinen
Author: Inoue, Takehiko (Story & Art)
REAL revolves around three teenagers: Tomomi, a high school dropout who wants to devote his life to a girl he got crippled after a bike accident. Kiyoharu, an ex-sprinter who now plays wheelchair basketball as an alternate outlet after losing his right leg. And Hisanobu, a popular leader of the high school's basketball team finds himself unable to move from the chest down after an accident.
-Bitches be like: are you for REAL?

-Im like: no I am not critically acclaimed masterpiece drama/sports manga REAL by Inoue Sensei

— jonat is leaving|| read pinned (@jonatspunpun) November 29, 2020
What story does REAL follow?
REAL is a psychological sports manga that doesn't exactly dive fully into the sports genre like your typical sports manga. Nor use any other that typical training arc, power-ups, spotlight hug, special or finishing move anywhere in its narrative. Instead takes a more down-to-earth and mature approach with its story progression and use of characters.
It isn't one of those works with a grand or highly conceptual plot but instead focuses on realistic experiences with compelling characters each with their inner conflict.
Kiyoharu, Takahashi, and Tomomi are taken as the focal point, each carrying the story with a clear and unique point of view making it all the more engaging for the reader.
Their backstories are rich and in their entirety, it is truly worthy of respect however masterful it is received.
Caught up to Real Manga. Another Peak Manga by Inoue. Those last few chapters were absolutely Peak. The quotes and lines written in this manga were Zenith. Need more chapters of this. Loved Nomiya and his way of thinking.

10/10 pic.twitter.com/cH7UGsy05w

— Sathvik (@OddJobsSathvik) August 14, 2022
Characters in the REAL manga are epic
REAL gets pretty unique with how it depicts the characters and develops them over time. It's more like a documentation of the lives of certain real individuals, an unusual slice of life so to speak with extremely character-driven story-telling.
Besides the main three, the side characters all contributed brilliantly with motives of their own, equally seeking their path.
Highly reflective and as believable as it can get. This will always be REAL's strongest point for me.
Finished Real by Takehiko Inoue, what an absolute masterpiece of a manga. The characters are phenomenal the pain and adversity that they go through will make you ball your eyes are. Tomomi, Kiyoharu, and Takahashi stories are incredible, this is a story that everyone should read. pic.twitter.com/xJGP8UoOYq

— Gullad (@Gullad_) May 14, 2020
The protagonists in REAL manga shine a lot
The best thing about REAL is how detailed it portrays these emotion-driven main characters. Each gradually and properly fleshed out and developed while being greatly concerned with their personalities.
The insight into these characters and how it associates with the events surrounding them, confronting and finding themselves, forging their path with goals. Neither losing to themselves nor to life, it's all so natural.
They definitely deserve individual analysis. It's all still in the process and I'm looking forward to more of their experiences. (Hard to pick a favorite, really)
Artwork of REAL
Inoue's Art is pretty much love at first sight for me. I especially love how realistic the characters look, making the experience a lot more worthwhile rather than some more creative, pretty, or intense art with less reality to it.
It helps empathize with the characters some more. Though some of his female characters tend to look alike which is quite common.
Lowkey 'real' by takehiko inoue

Amazing manga https://t.co/ucWdutMAYQ

— Pachira 🍵 (@MonkPachira) May 8, 2022
I'm quite a sucker for the color page and double-page spreads. I never get enough of them and always look forward to more.
Will you enjoy reading REAL manga?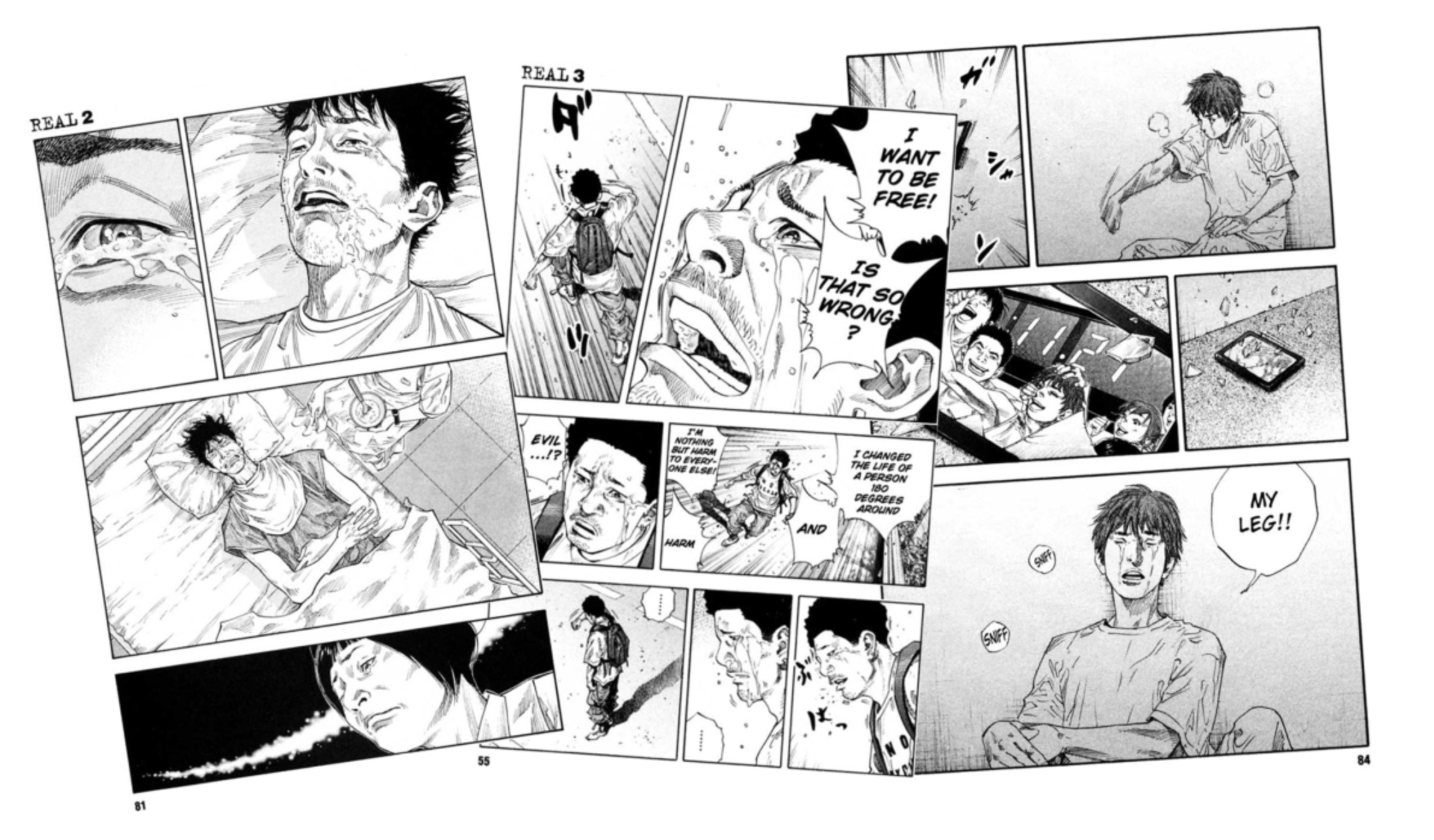 Halfway into REAL, I wasn't awestruck by the characters or their suffering having experienced something similar prior regarding the challenges that come with being physically disabled and the psychological pressure that ensues.
REAL becomes much more than just that, it idealized the situations of the characters over time, each with a unique appeal and I love the doubts and passion that come with pursuing their goals.
Conclusion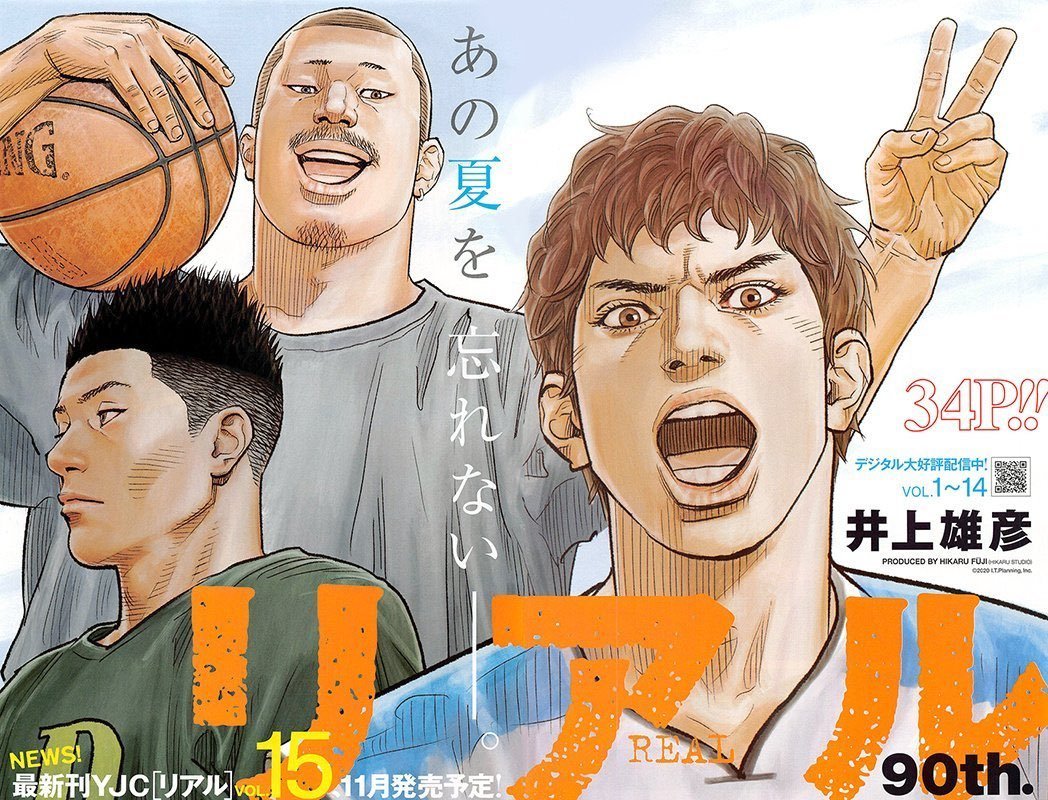 REAL manga review could have gone a little more, but this is the best way I could put it. REAL manga is a very inspiring and realistic manga that portrays the hardship in overcoming life and oneself physically and mentally through characterization. A must-read for everyone who loves seinen or mature themes with character-driven stories.
Give this one a read if you like them deep and thoughtful!
---
Also Read: Xiaomi 13 Pro vs iPhone 14 – Which is better?
That's it then folks! make sure to share, and subscribe to our push notifications. Also keep yourself connected to our world of Gaming, News, Cinema, and Anime! You can also follow us on Twitter @spieltimes for the latest PS5 restock and drop. Stay Safe and Happy Gaming!