Tomo-chan is a Girl, but everybody around her often forgets it due to her tomboyish personality and sometimes scary attitude. If you haven't read 'Tomo-chan is a Girl!' yet, big mistake, go read it now. Tomo-chan is a Girl! Anime is releasing on January 4, 2023.
An amazing full-length promo video confirms the staff, and the show will be 13 episodes long.
❤︎—–♡—–❤︎—–♡—–❤︎

 『トモちゃんは女の子!』
2023年1月4日(水)放送スタート!

 ❤︎—–♡—–❤︎—–♡—–❤︎

TOKYO MX
BS11
群馬テレビ
とちぎテレビ
➤1月4日(水)より 24:30~

MBS
➤1月7日(土)より 27:38~

🔗https://t.co/RHjxj1HKVo#tomochan pic.twitter.com/tEG45wpMwf

— トモちゃんは女の子!TVアニメ公式 (@tomo_chan_ani) November 27, 2022
Tomo-chan Is a Girl! Anime
It all begins with Tomo-chan informing us about how she confessed to Jun when high school started and how it was definitely romantic. Jun being a muscle-head who forgets Tomo-chan is a girl, takes her confessions as a joke and calls here 'bro.'
The manga finished three years ago yet is a hit among rom-com lovers. So an anime variation of this hilarious romance will undoubtedly rock the boat.
The trailer also previews the anime's ending theme song, 'urukuru*love.' The previously announced opening theme song, "Kurae! Telepathy" by Maharajan, is also previewed.
Moreover, the anime's new key visual features Tomo and Jun making a heart out of a hand knock with Misuzu, Carol, and others giving a shout-out to them in the background.
Tomo-chan Is a Girl! possible plot/storyline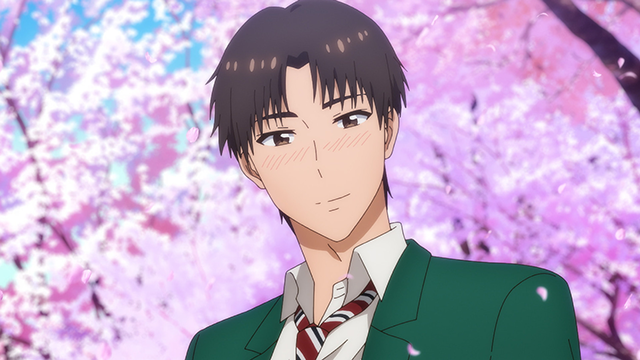 While Tomo's feelings continue to develop, Jun's behavior around her doesn't make it any simpler. Jun seems to have no feelings for Tomo, as he thinks of her as a friend. But later gets flustered every time he comes too close to her.
After falling in love with Jun, and having no idea how to make him see Tomo as her girl, she goes to her friends Misuzu and Carol for help. These two bright characters agree to help their friend in their own unusual and some of time outrageous ways.
It's the perfect mix of cute, healthy, entertaining, and literally, everything that is good in this dying world.
TOMO-CHAN IS A GIRL! TV Anime Trailer Broadcast begins January 4th

— Shonen Updates (@shonenupdatess) November 27, 2022
Main cast and staff members
Lay-duce is the production house behind the anime. Here are all the staff members who will be working on Tomo-chan is a Girl!:
| | | |
| --- | --- | --- |
| Position | Staff | Other Works |
| Director | Hitoshi Namba | – |
| Head Writer | Megumi Shimizu | My Next Life as a Villainess: All Routes Lead to Doom! |
| Character Design | Shiori Hiraiwa | – |
| Music Composer | Masaru Yokoyama | Horimiya |
The voice cast for the anime is:
| | | |
| --- | --- | --- |
| Character | Cast | Other Works |
| Tomo Aizawa | Rie Takahashi | Megumin (KonoSuba) |
| Junichiro Kubota | Kaito Ishikawa | Tobio Kageyama (Haikyu!!) |
| Carol Olston | Sally Amaki | Akubi (Pandora to Akubi) |
| Misuzu Gundo | Rina Hidaka | Silica (SAO) |
This winter, Crunchyroll will bring this romantic comedy magnum opus which will frustrate and tickle you in equal parts.
Conclusion
Tomo-chan is a Girl! is a four-panel manga by Fumita Yanagida. It was published from April 2015 to July 2019. It is finally receiving an anime adaptation in 2023.
In spite of being competitive, energetic, and harsh, Tomo-chan is very kind, honest, and delicate. To the place where it leads to her own defeat. Things like this have made the story charming and famous, and I can hardly hold back to see it on screen.
Are you ready for this wild rom-com show coming on Crunchyroll? Let us know your thoughts in the comments down below.
---
Also Read: Top 10 Anime Series with the most number of Episodes
Make sure you share, subscribe to our push notifications, and never miss an update from the world of video games, cinema, and sports. You can also follow us on Twitter @spieltimes for the latest PS5 restock and drop. Stay Safe and Happy Gaming